Cloud Servers (VPS)
You pay per month, you can cancel per month and your data is naturally stored safely in the Netherlands.
Cloud Servers are the new generation in VPSs. We deliver our Cloud Servers from our high available, high performance and redundant platform based on KVM virtualisation.
| Memory | CPU power | Storage | Performance Score | Bandwidth | Uplink | Price |
| --- | --- | --- | --- | --- | --- | --- |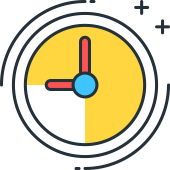 Instant delivery
All our Cloud Servers are instant delivered after the payment is confirmed.
FREQUENTLY ASKED QUESTIONS
The operating systems listed below are available for automatic provisioning. Custom operating systems can be installed via ISO.
CentOS 7
CentOS 8
Ubuntu 16
Ubuntu 18
Ubuntu 20
Debian 10
Debian 11
We only use high-quality server hardware.

The storage is NVMe-only in RAID-10. All nodes are equipped with 4 times a 10G network uplink.

All this to guarantee your accessibility.
Cloud Servers come with 1 dedicated IPv4 address.
You can purchase additional IP addresses for € 1.80 per IP per month. You can also let us announce your own IP space and/or ASN.
Pricing for bigger subnets:
/29 IPv4 subnet = 8 IP's at € 9/mo
/27 IPv4 subnet = 32 IP's at € 35/mo